Magazine
March-April 2017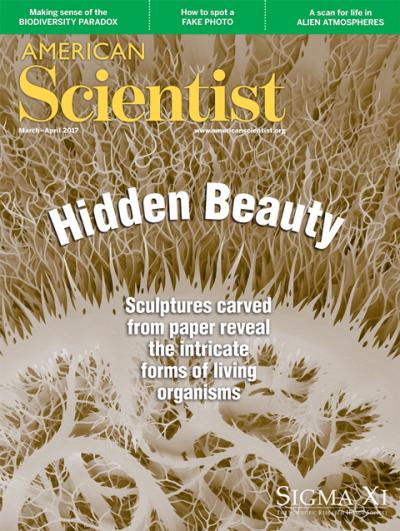 March-April 2017
Volume: 105 Number: 2
Drawing inspiration from forms found in nature, artist Rogan Brown uses a scalpel or laser to cut intricate patterns into hundreds of microlayers of paper. (The cover features a detail from his paper sculpture Kernel.) As new technologies increasingly dominate the popular culture, transforming the way people tend to see today, Brown fears an erosion of the human ability to contemplate art, nature, or anything else. To counter this loss, he creates sculptures whose sheer abundance of detail makes them impossible to comprehend in one glance; viewers are obliged to move closer and study the work in order to take it in fully.
In This Issue
Art

Astronomy

Biology

Chemistry

Communications

Computer

Engineering

Environment

Ethics

Evolution

Mathematics

Medicine

Physics

Policy

Technology
This ubiquitous diabetes drug took a convoluted route to become the standard of care, and is still finding new uses.
The story of radon's study in public health can be a guide for how to best weigh the pros and cons of radiation use.