Magazine
November-December 2018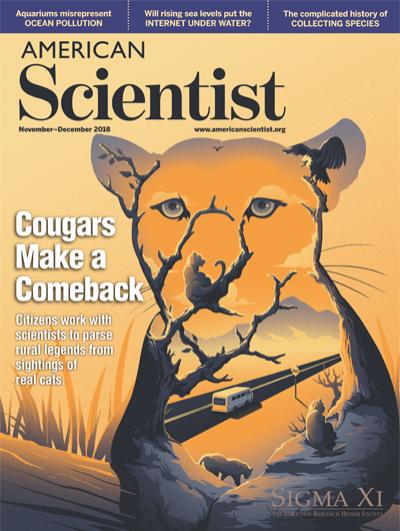 November-December 2018
Volume: 106 Number: 6
Mountain lions disappeared from eastern and midwestern North America more than a century ago, as hunting and habitat loss diminished their numbers. Since then, they have been confined largely to the West, but they have continued to show up in rural legends and lore in the places that lost them. Many of these stories were tall tales or misidentifications, but there was rarely a way to know for sure. In the 1990s, the wild cats started showing up in places wildlife biologists did not expect them to be: on the prairies of the Midwest. The nonprofit Cougar Network was launched to document mountain lion presences, validating them with a photograph or video of the cat or its tracks or with DNA analysis of scat or hair. It was perfect timing: The cats were coming back east, at times trekking thousands of kilometers. In "America's Cat Is on the Comeback," wildlife biologist Michelle LaRue describes the incredible eastward journeys of this country's biggest cats. (Cover illustration by Eric Chow, www.ericchow.co.uk.)
In This Issue
Art

Astronomy

Biology

Communications

Engineering

Environment

Ethics

Evolution

Mathematics

Physics

Policy

Sociology

Technology
After the success of the Standard Model, experiments have stopped answering to grand theories. Has the quest for top-down unification of physics stalled?
Expeditions that took animal specimens seem counter to modern conservation values, but their goal was to preserve species for scientific knowledge.
Exploring the relationship between mathematics and music from a historical perspective reveals unexpected affinities.

During the First World War, rich connections between science and suffrage arose as women played crucial roles in STEM fields.

Sandra Rendgen's analysis of the pathbreaking statistical graphics of Charles-Joseph Minard collapses boundaries of time, allowing readers to consider him as a kind of contemporary.