The Cool Factor: Air Conditioning's History in Images
In honor of the first week of summer, we're revisiting the book Cool: How Air Conditioning Changed Everything by Salvatore Basile.
June 27, 2015
In honor of the first week of summer (for those of us in the Northern Hemisphere anyway), we're revisiting the book Cool: How Air Conditioning Changed Everything, by Salvatore Basile, which we reviewed in the May–June 2015 issue of American Scientist.
Cool concentrates mostly on the cultural history of air conditioning, yet Basile doesn't stint on providing lucid descriptions of air cooling technologies as they developed over time and were adapted to suit the needs of various industries. He also includes a good number of images in Cool, most of them historical; they prove especially handy for some of the older technologies that truly challenge the imagination. Below, we've selected a few images from the book and collected a handful of others to highlight some of Basile's themes.
We hope you enjoy them as well as the additional discussion of Cool. We like to think of this as the summertime-release, extended dance version of our original review.
---
Cooling Mechanisms as Furniture, Part One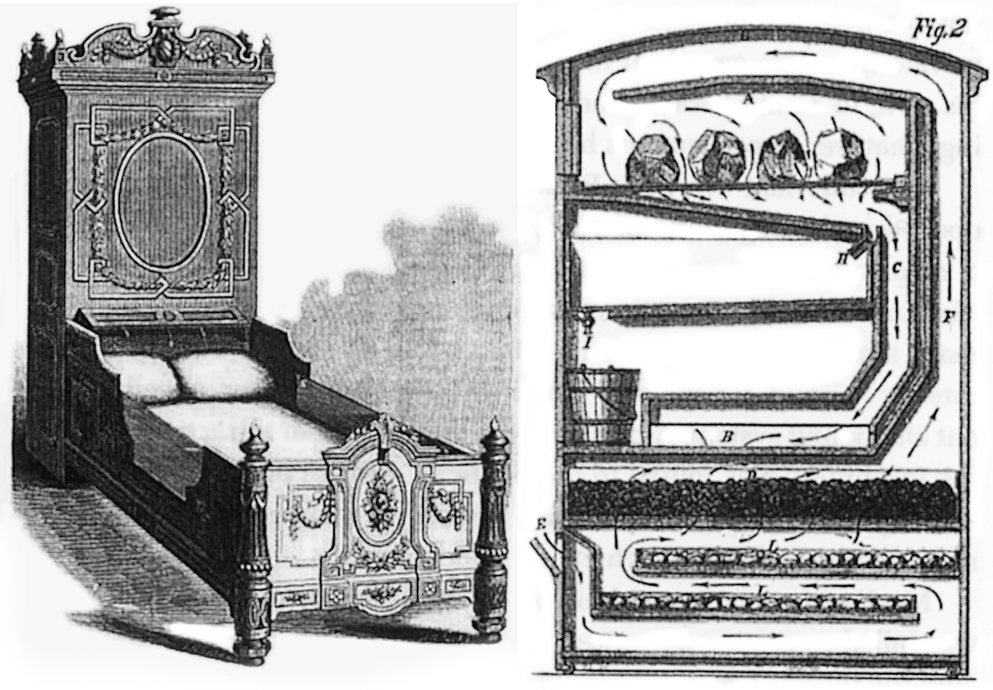 Before Willis Carrier famously presented Sackett-Wilhelms Lithographic and Publishing Company with plans for a cooling and dehumidifying system for its printing facility in 1902, innumerable inventors had taken a run at developing cooling gadgets. Often these were more creative than effective. The diagrams here show Lyman's Air Purifier, designed and offered for sale in 1865 by Azel S. Lyman. The Air Purifier didn't attempt to cool the whole bedroom; rather, it was a refrigerated bed (left) that blew ice-cooled air onto its occupants via a contraption concealed in the headboard (right). As Salvatore Basile explains it in his book Cool "air would supposedly enter the cabinet at lower left, travel through the maze, and emerge through slot B 'as pure and exhilarating as the heights of Oregon,'" according to the seller.
---
Keeping Wall Street Cool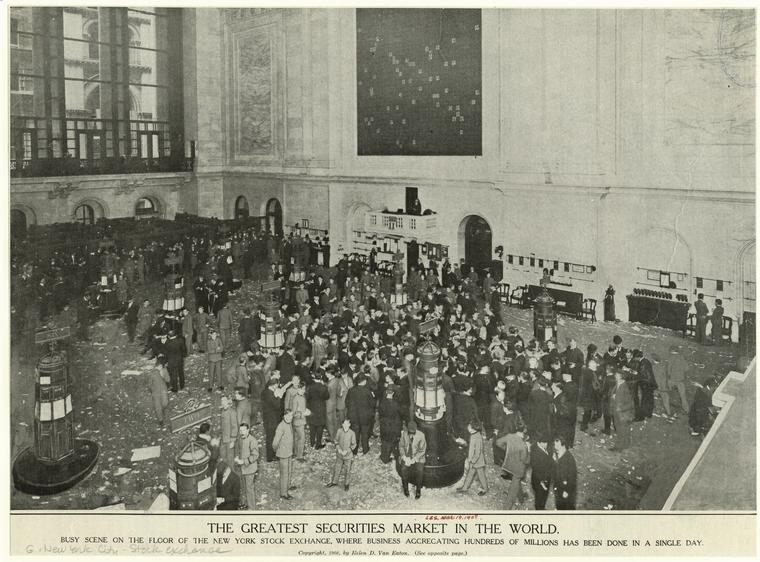 The system Willis Carrier designed for Sackett-Wilhelms was in essence a small version of the one engineer Alfred R. Wolff had created to cool the trading floor of the New York Stock Exchange. The project had presented Wolff with a peculiar set of challenges: The space was enormous (the length of a full city block); its vast windows and skylights, while effectively illuminating the space, could threaten to bake it too; and the 1,500 energetic traders occupying the room would certainly generate heat. Mechanical cooling technologies were still in their infancy; however, Wolff had the advantage of creating the system from the ground up as the new Stock Exchange was being built. He began designing the system in 1901, and when it debuted in 1903 the New York press raved about it. The story was picked up in newspapers nationwide. Nonetheless, as Basile observes, "in times to come, the cooling plant of the Stock Exchange would take its place among the marvels of New York, meaning that it would be most noticed when it wasn't working."
---
To Comfort a President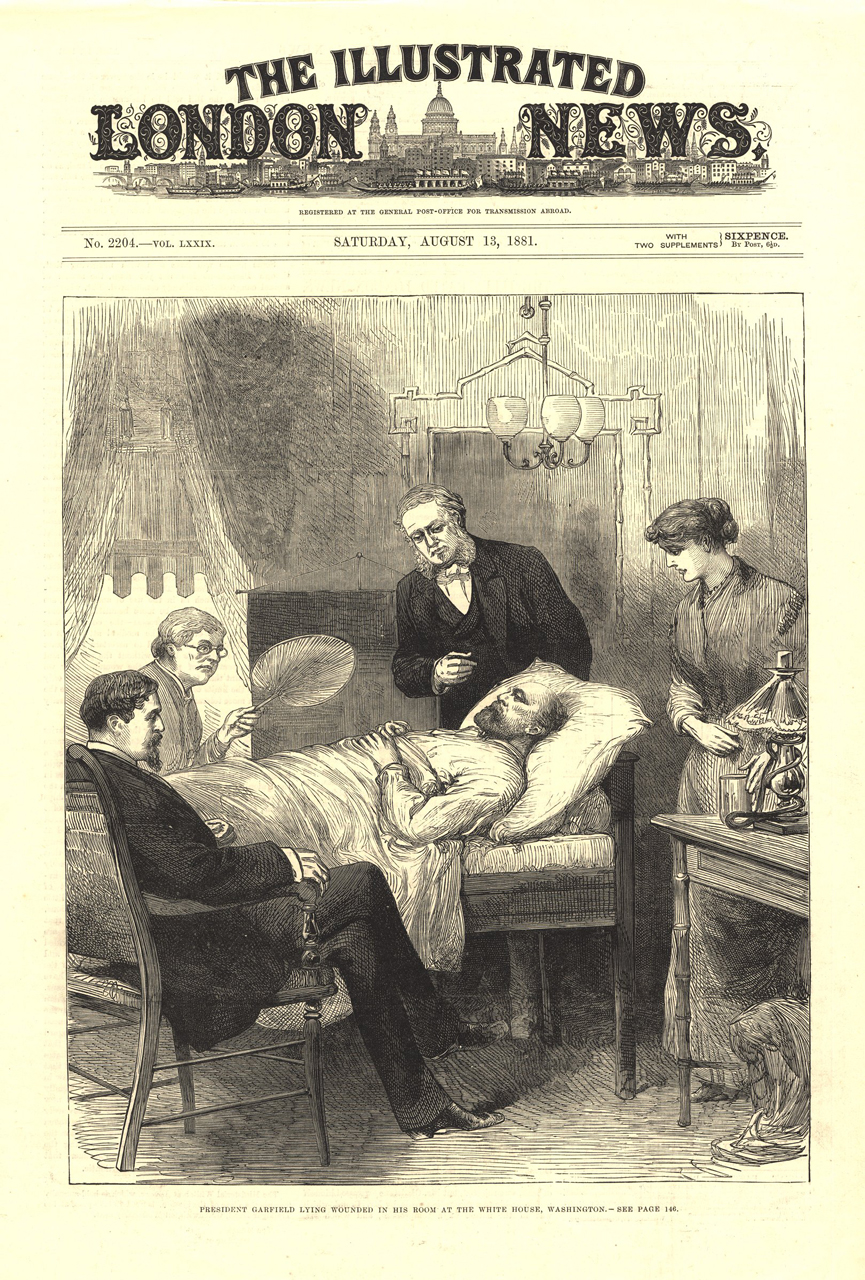 Decades before the successful installation of the New York Stock Exchange system, many Americans were introduced to the concept of mechanical cooling in 1881 as they read accounts of President James A. Garfield's medical treatment as he suffered complications from a gunshot wound. Although Garfield had survived the initial impact of the assassin's bullet, he acquired an infection that eventually killed him. Basile notes that following the shooting, for "seventy-nine days, temperatures flirted with the hundred-degree mark, the bedridden president sweated profusely, [and] his condition deteriorated." Desperate to help, donors from around the country provided an array of cooling devices. They accumulated in a veritable pile of Goldilocks rejects—some were too weak, others too soggy, a few had no air-blowing mechanism, and at least one featured an overly vigorous air-blowing mechanism. Finally, mathematician-astronomer Simon Newcomb was assigned the task of effectively cooling the president's sickroom. He started by measuring Garfield's bedroom—something no one else had done. He determined that a cooling device contributed by Ralph A. Jennings could be adapted enough to be effective. By beefing up the size of the engine, fan, and ice receptacle, the transformed machine was able to keep the room's temperature around 24 degrees Celsius (75 degrees Fahrenheit). (Alas, Garfield's insistence that a window remain open meant that the room temperature instead hovered around 27 degrees Celsius, or 80 degrees Fahrenheit.) To do so, the device went through 436 pounds of ice per hour.
---
Misadventures of The Tall Man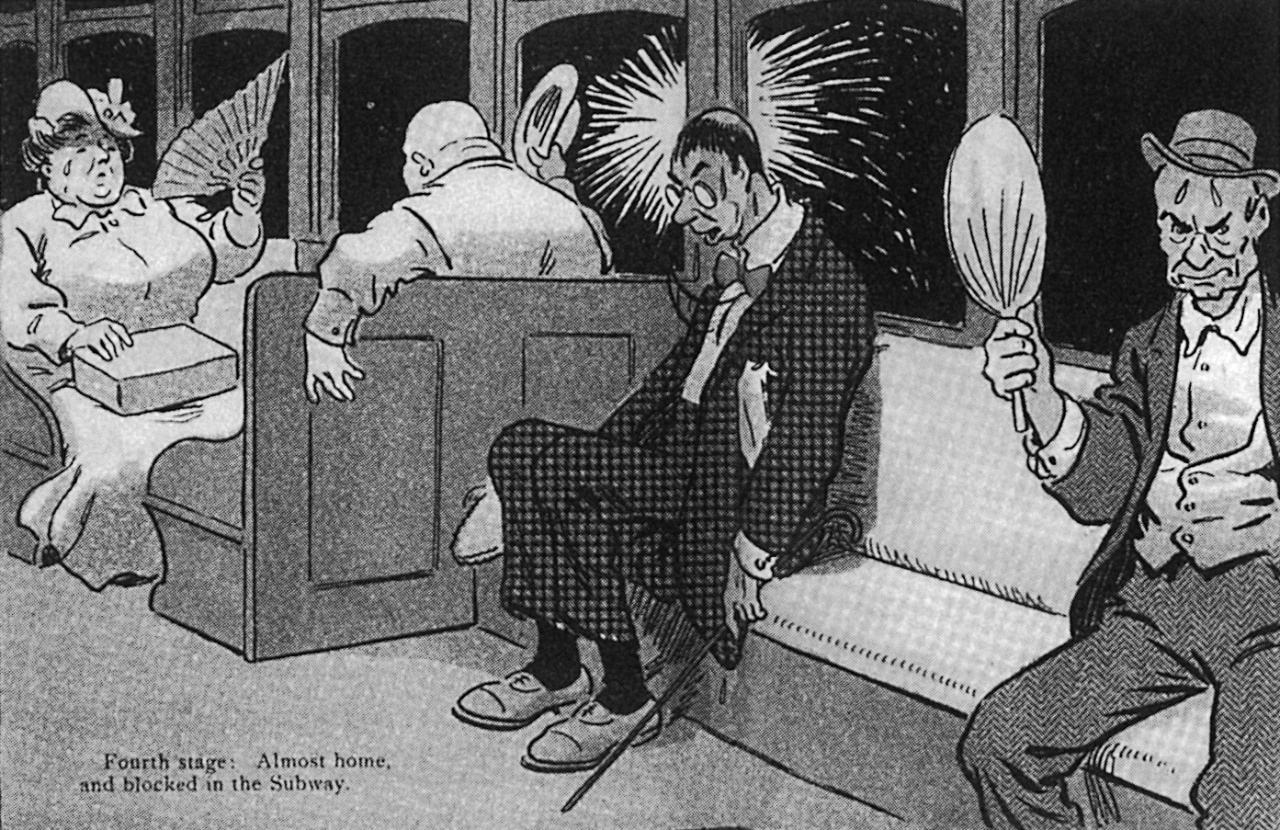 In the July 15, 1908, issue of the humor magazine Puck, cartoonist Louis M. Glackens published a series of panels depicting a New Yorker trying to cool off over the course of a long, hot summer day. The comic, titled "Getting Cool: The Combination of a Hot Day, a Sizzling Mortal, and the Isle of Coney," shows a character called The Tall One chasing cool breezes on Coney Island while his companion, The Fat One, stays home in the apartment building, resting in relative comfort beside an electric fan. Glackens portrays The Tall One's cooling process as a multistage affair: First he takes a sweltering streetcar through Brooklyn; then he perspires profusely while waiting in the bathing suit line; next, he gets soaked in a thunderstorm. The fourth and final stage (above) shows The Tall One wilting in the heat of a subway car as he finally heads home. As unpleasant as summer subway travel could be in New York at the time, it had actually improved somewhat by 1908. When the subway first opened in 1904, as Basile explains in Cool, with the exception of a few squared-off shaft openings "scattered along the tunnel, and those only at the [subway's] northernmost end, there were no provisions for ventilation in the original plans." After riders endured several heat waves—during which the sight of passengers fainting on subway cars was not uncommon—new ventilation shafts were constructed in 1906 and large exhaust fans installed.
---
Good News, Subway Fans!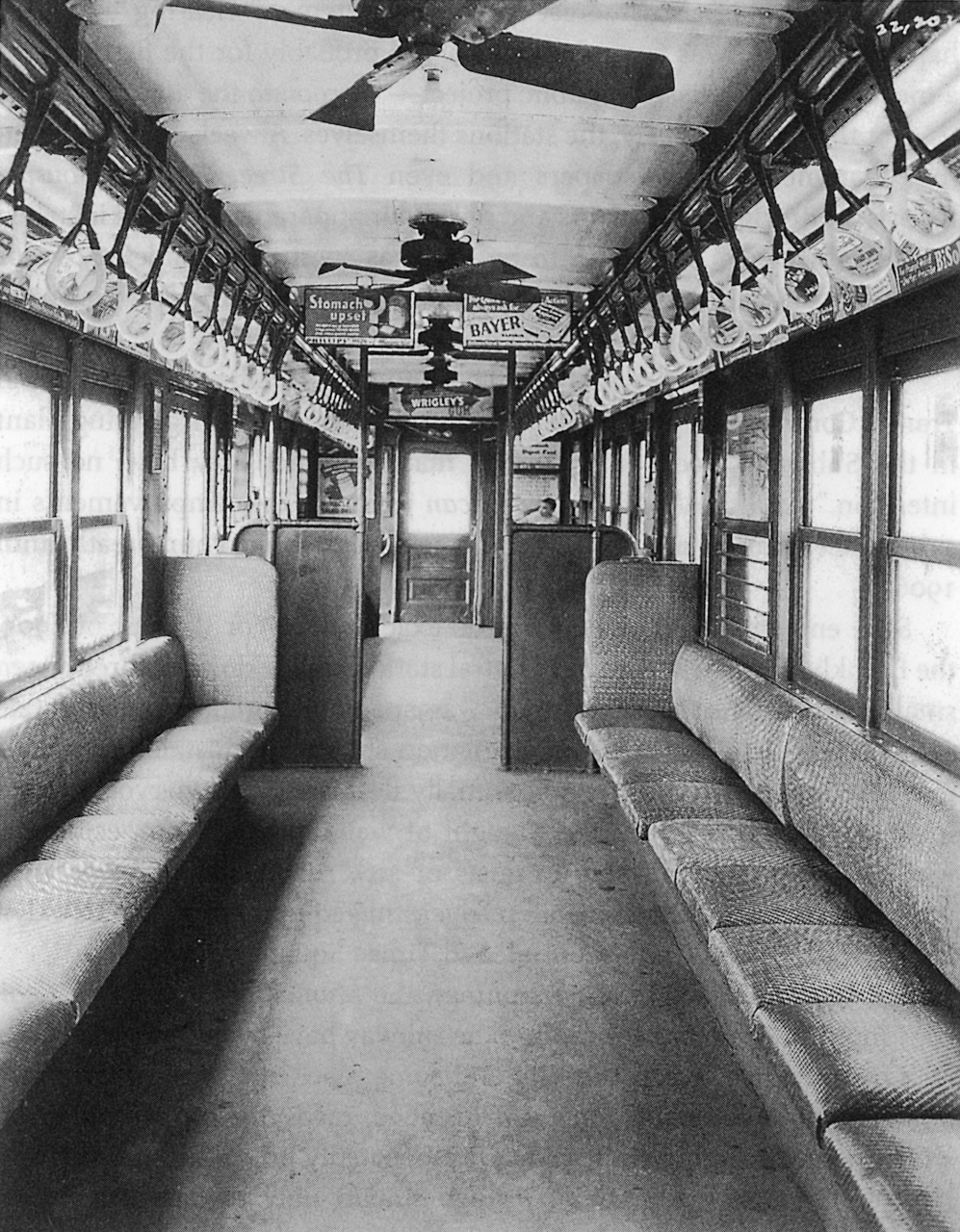 By 1910, The Tall Man's journey back from Coney Island might have been further improved by the installation of electric ceiling fans in subway cars. That year a few cars were experimentally outfitted with the fans; then momentum for the project quickly picked up. Soon, Basile says, these General Electric ceiling fans "would be installed in nearly every car on the line, becoming the default cooling system in the New York subway for the next seven decades." Still, The Tall Man would need to ride with care. Open blades rotating in the confined space of the car posed a hazard for some. Basile quotes a rider who recalled that "tall people had to be extremely careful."
---
Cooling Mechanisms as Furniture, Part Two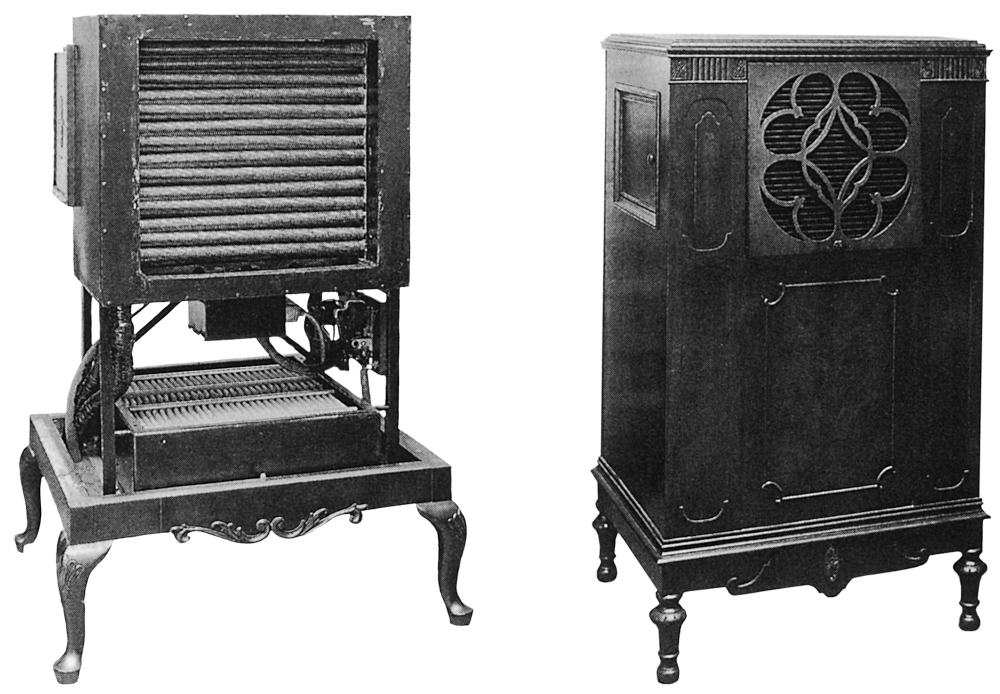 Industries like textile manufacturing, printing, and pharmaceuticals were among the early adopters of air conditioning systems, as maintaining tight control over temperature and humidity variation could vastly improve product quality and consistency. The market for "comfort cooling" was slower to develop. Movie theater owners swiftly calculated that providing a cool, comfortable movie-viewing experience would draw enough patrons that, despite the high cost of air conditioning systems during the first half of the 20th century, the investment would pay for itself in a matter of months. Comfort cooling for the home was a different story. Public interest was slow to develop, partly because of erroneous beliefs among the medical community about the danger of being exposed to drafts. Accordingly, low demand for residential units kept prices high. The first room-cooling units designed for the home were offered by Frigidaire in the spring of 1929. Faced with a cost of $800 (the equivalent of almost $11,000 today), purchasers were few and tended to be exceedingly wealthy. Very early units, like this 1930 model from General Electric (left) had an industrial look, sometimes incorporating a detail or two that acknowledged traditional home decor. (Note the walnut Queen Anne–style base.) Soon models became available with cabinetry details designed to disguise the unit as a radio, like the model at right, also from General Electric. As the Great Depression took hold, however, marketers changed their approach and pitched these room-cooling units directly to businesses. It would be many years before residential comfort cooling was within reach of anyone but the wealthiest homeowners.
---
Your Grandfather's Oldsmobile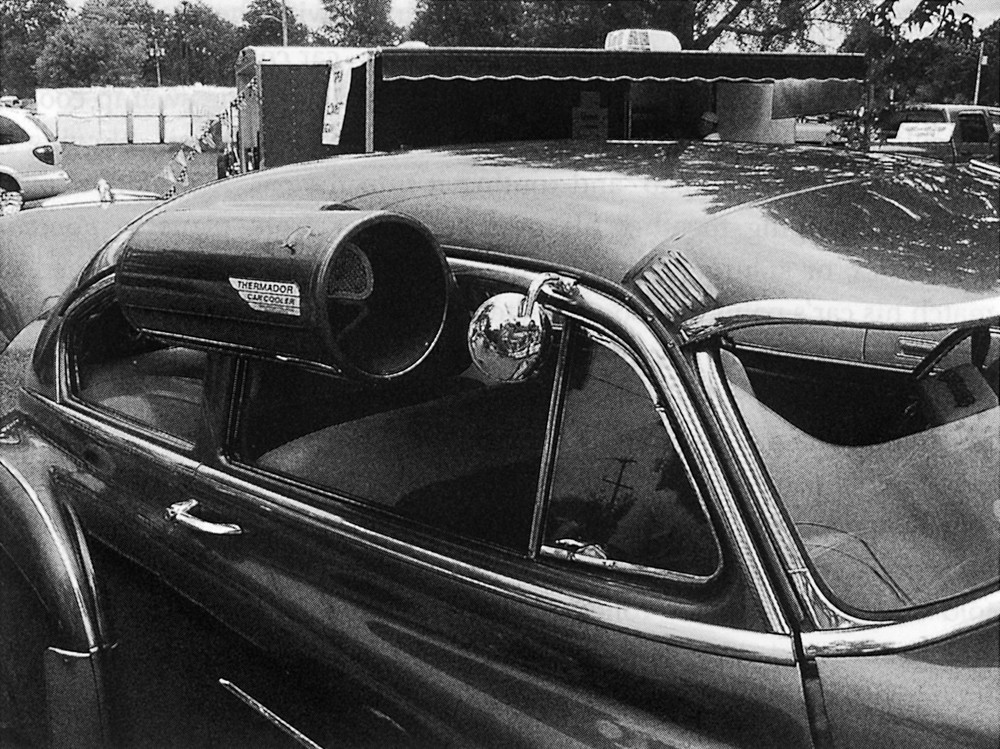 Before General Motors introduced air conditioning in its 1953 Oldsmobiles and Cadillacs, auto owners had few options for enjoying a cooler drive besides rolling down the windows. One gadget, the car cooler, gained a healthy following in the western United States. Tinkerers could construct one from plans published in Popular Mechanics; others could purchase the Thermador Car-Cooler, shown above, ordering it in a shade to match the car's exterior. In Cool, Basile explains how the devices worked: "It hooked over the front passenger window, scooping up air, blowing it through a moistened pad, and routing it into the car." In the Southwest, Basile says, vacationers as well as local drivers with commitment issues could "rent car coolers, picking them up from stores at one edge of the desert and returning them at the other side." Today, Basile reports, more than 98 percent of cars in the United States have air conditioning.
---
Carving the Dunes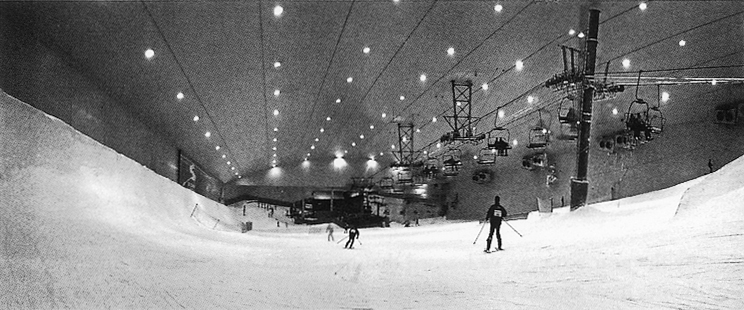 As air conditioning has become ubiquitous in some regions, its uses have grown more eccentric as well. Here, mechanical cooling conditions the air for chairlift passengers as well as skiers schussing below. Ski Dubai, which opened in November 2005, keeps temperatures at -1 degree Celsius (30 degrees Fahrenheit) inside a five-acre space devoted to snow sports. Basile observes, "When Willis Carrier extolled the wonders of 'Manufactured Weather,' he probably hadn't envisioned anything like Ski Dubai."
---
A Breath of Fresh Air

In the final chapter of Cool, drolly titled "The Unnecessary, Unhealthy Luxury (That No One Would Give Up)," Basile examines more recent developments especially the rapidly increasing consumer demand for air conditioning systems worldwide—and with it, surging energy use. Some builders and architects have sharpened their focus on energy efficiency when designing and building large structures like skyscrapers, which have typically been major energy consumers. When it opened in 1999, New York City's Four Times Square was dubbed "the world's first green skyscraper." The glass exterior of the 48-story building was given a special glazing that admits plenty of light into the interior without causing a temperature increase. Solar panels located on the upper stories generate electricity for the building, and gas-fired absorption chillers (a more efficient option in this context than conventional chillers) provide cooling. Air intake comes from 700 feet above street level and is meticulously filtered, yielding 50 percent more fresh air than city codes mandate.
---
Time and Turbines Keep Turning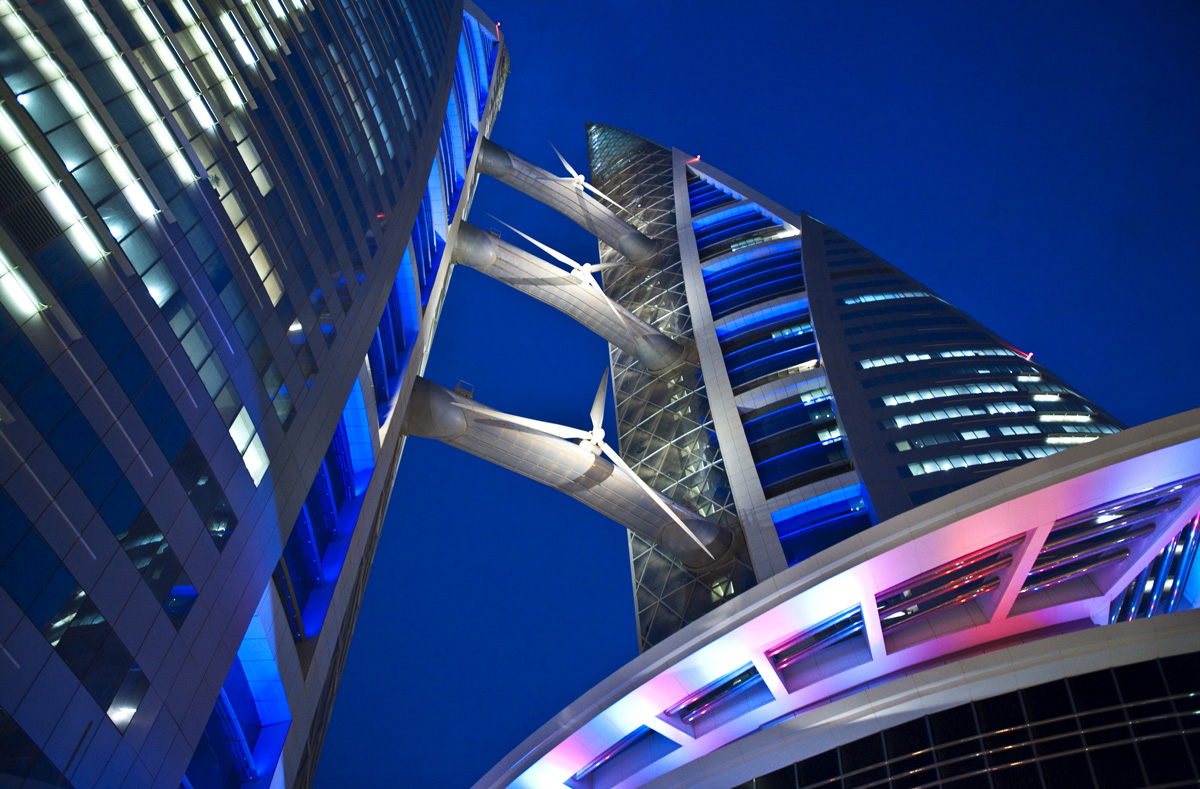 The Bahrain World Trade Center also figures in Basile's discussion of more recent designs that prioritize energy efficiency. Constructed in 2008, the Trade Center supports three wind turbines, each 95 feet in diameter, attached to skybridges connecting two sail-shaped towers. The towers are angled to funnel breezes toward the turbines, accelerating the wind's speed as it approaches the turbine blades. The turbine system was designed to generate as much as 15 percent of the building's electricity. Building planners were also able to make use of a chilled water network that benefits the district. Seawater is drawn into a central chilling plant where the water is also filtered; then it travels through a system of underground pipes to supply buildings with cold water for air conditioning. Finally, the water is cooled before it's returned to the sea.