Who Reads Science Blogs?
Even as blogs matured far beyond the dynamic and informal discussion forums from which they originated, their audiences and impact were not studied—until now.
June 5, 2018
In 2016, I wrote a post for this blog on the world of science blogging, from the perspective of the blogger. Science blogs today are produced by scientists and professional science writers alike, with blogs often leading scientists into the broader world of science communication.
Science blogs today serve a variety of functions. Blogs have morphed and found their place as mediums for telling long-form stories and for archiving and indexing content, especially as new forms of social communication have come online. Platforms that combine long-form writing and social networking, such as Medium and Tumblr, have matured and exploded with content, while social networks such as Instagram, Facebook, Twitter, and LinkedIn have extended the science blogger's net for collecting story ideas and distributing content.
It's clear that blogs and social media channels in general have helped the modern scientist find an unmediated voice for his or her science and for issues within the scientific community online. Just last month a movement among young scientists to humanize their work on Instagram with selfies led to an intense debate on diversity in research and science communication that played out in the pages of publishing giant Science. It's also clear that most science bloggers, especially those trained in the sciences, don't see themselves filling the role of science journalists. Rather, most scientist bloggers are focused on being educators, entertainers, and advocates. They aren't primarily focused on breaking or even correcting science news (although these objectives do arise) but rather on highlighting the more obscure stories and issues they feel need more attention or that they simply enjoy writing about. In the end, a blog is a work of love and self-fulfillment, especially when the work is unpaid, and scientist bloggers are going to write about what they enjoy writing about more often than not.
We've learned a lot in the last few years about how science blogs fit into the science media ecosystem and the impacts they are having not only on media coverage of science but also on scientific discourse and the way research is communicated and distributed. Many blogs focus on the process and culture of science and academia as opposed to educating general audiences about new research.
But even as blogs have matured far beyond the dynamic and informal discussion forums from which they grew, and now have become a stomping ground for scientists and budding science communicators, we know little about these blogs' audiences and impact.
To remedy that, last year I conducted and published a research study with Lance Porter at the Manship School of Mass Communication on the profiles of science blog readers. Based on a large pool of science blogs, we set out to survey the readers of a random sample of these blogs to learn more about their motivations and inclinations. Through a survey of 2,955 readers of 40 randomly selected science blogs, we created profiles of science blog users.
We found that these users are sophisticated consumers of science media. They generally possess high levels of scientific knowledge, either through formal or informal education in STEM fields, and actively follow science news in other venues. They probably aren't looking for general science news and information in blogs, but rather for special nuggets of niche information that aren't easily found in media stories or on Wikipedia. The typical science blog reader may enjoy a post about an obscure new species of whale, the truth behind the bacon-cancer link, or the metabolic tricks that a hibernating arctic ground squirrel uses to survive subzero temperatures for months at a time, while they are not necessarily able to easily read the underlying technical peer-reviewed research report.
We concluded by classifying science blog readers into three separate motivational groups:
one-way entertainment users,
unique information seekers, and
super users, who read blogs for a wide range of reasons but stand out for their community-seeking tendencies.
One-Way Entertainment Users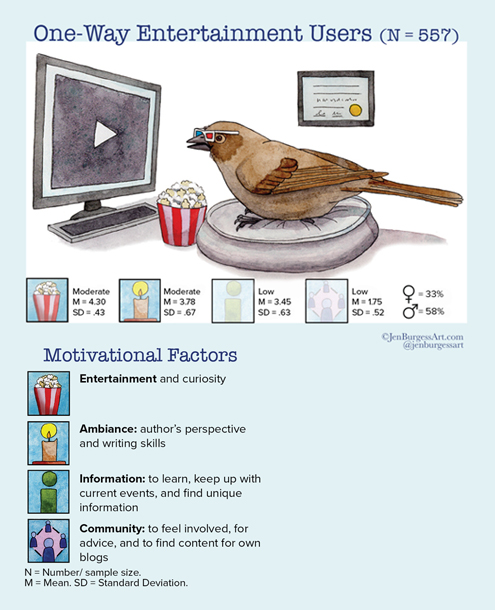 These users, representing the largest group of science blog readers, consume primarily for entertainment; they're interested in the blogger's writing skills and unique perspective.. They tend not to share, comment, or otherwise make their presence known—thus their "one-way" moniker. They are the least likely among science blog readers to hold a formal degree in fields of science, technology, engineering, or mathematics, but they also tend to believe that the blogs they read aren't overly technical. They may be choosing to read less technical blogs or blog posts. Popular media or more journalistic science blogs, such as Inkfish at Discover and Vintage Space at Popular Science, have higher percentages of one-way entertainment users reading them than do more technical or scientific community blogs.
Unique Information Seekers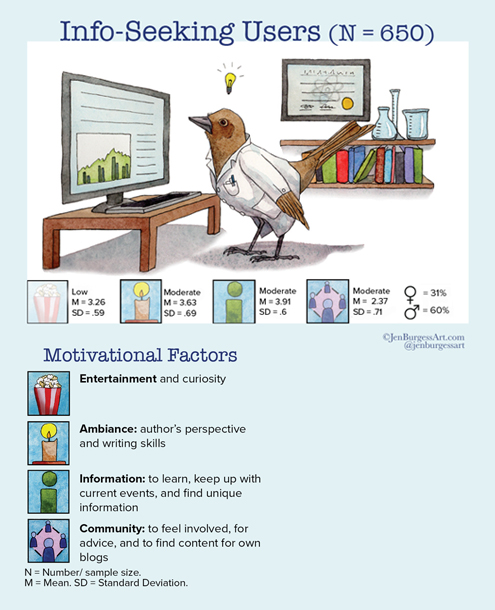 The desire to find information outside of traditional media is a strong motivation for science blog readers, particularly the unique information seekers. This group of science blog readers features the highest concentration of current scientists. To cater to this group, bloggers can focus on surfacing unique information based on their own research or expertise and providing lots of scientific citations and hyperlinks to sources of information to allow the reader to find the informational nuggets they are looking for.
Super Users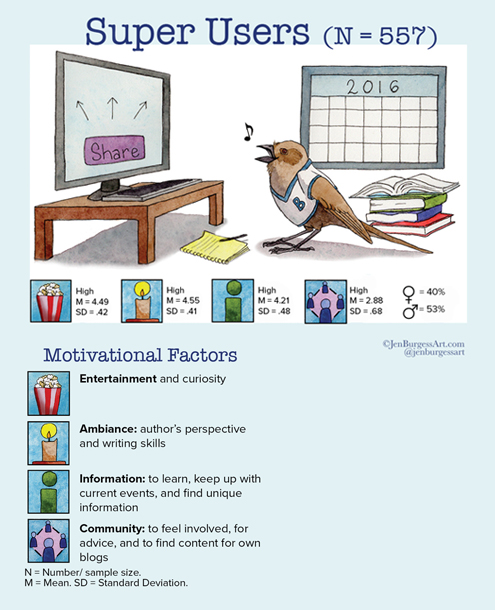 The super user reads science blogs avidly, usually more than one. In addition to using science blogs heavily, this user trusts scientists more than other types of science blog readers do. They are significantly more likely to share via social media the content from a blog they read and to create their own science-related social media content.
These users are unique in their community-seeking behavior. They could be seeking community by commenting on blogs and otherwise engaging with blog authors in an attempt to gain deep insights into science or to get experience in online science writing. Want to expand the reach of your science blog? Try catering to the community-seeking motivations of your super users and provide avenues for interactive, two-way communication with them. Offer career advice and create opportunities for reader involvement—and be sure to have that share button right above or below each blog post you write.
Who, Exactly, Are Science Blogs Reaching?
The answer to that question depends on what kinds of readers bloggers are catering to. It also depends on how technical a science blogger's content is, and whether the blogger's approach is more journalistic and focused on popularizing science or more focused on complex scientific issues or technical and niche information.
We have relatively little direct data on the impact of science blogs on audiences. However, in our study of science blog readers, Lance Porter and I found that users who read science blogs more often or who read a greater number of science blogs have greater levels of scientific knowledge, based on a Pew science quiz, and greater levels of trust in scientists. However, it's interesting that an entertainment motivation to read science blogs positively predicts higher scores on that science quiz, whereas other motivations either negatively predict or don't predict higher scores. Entertaining science blog content or a reader approach focused on entertaining content may improve recall and understanding of information across a diverse range of science domains. Entertainment users may be exposed to a broad range of scientific information they would not otherwise directly seek as a product of reading popular entertainment-focused science blogs they encounter via magazines or social media.
Science blogs likely have different effects among different audiences. From what we know about blog readers, they probably have more of an impact on scientific discourse and information dissemination among other scientists and among educated, savvy science media users. However, if blogs and scientists' social media updates can reach a greater number of nonexpert users with entertaining and humanized popular science content that takes lay audience values and interests into account, this online science content may be able to exert greater influence on knowledge, trust in scientists, and informed decision making.
Science blogs might also have an overlooked impact on mentorship of young scientists and scientists in training, many of whom may fall into the "super users" category discussed above, an effect that shouldn't be underestimated in evaluating the audiences and impact of these blogs. Young scientists may look especially to veteran scientists in social media and blog spaces for community, scientific research and communication norms, career advice, and tips on how to approach public engagement.
Bibliography
Gardiner, A., M. Sullivan, and A. Grand. 2018. Who Are You Writing for? Differences in Response to Blog Design Between Scientists and Nonscientists. Science Communication 40:109–123.
Jarreau, P. B., and L. Porter. 2018. Science in the social media age: Profiles of science blog readers. Journalism & Mass Communication Quarterly 95:142–168.
Saunders, M. E., et al. 2017. Bringing ecology blogging into the scientific fold: Measuring reach and impact of science community blogs. Royal Society Open Science 4:170957.
Yammine, S. Z., C. Liu, P. B. Jarreau, and I. R. Coe. 2018. Social media for social change in science. Science 360(6385):162–163.
Yeo, S. K., et al. 2017. The case of #arseniclife: Blogs and Twitter in informal peer review. Public Understanding of Science 26:937–952.