Scientists Who Selfie Break Down Stereotypes
Researchers who post personal photos of their lives can build trust with public audiences.
May 20, 2019
You don't have to look very far to find a common stereotype: Scientists are wicked smart, but they are awkward, unsociable, typically white-haired male nerds. Princeton University psychologist Susan Fiske has shown that most people perceive scientists as very competent but only moderately warm or friendly. This stereotype is a problem when it comes to trusting what scientists have to say, because our trust of communicators is largely based on evaluations of their warmth. The stereotype that scientists are competent but relatively cold is made worse by the fact that most people don't know a scientist personally and have never witnessed their work in action.
"Scientists are famously competent—people report we're smart, curious, lab nerds—but they're silent about scientists' more human qualities," Fiske said.
Ever since I first heard Fiske talk about her study of stereotypes of scientists during a Sackler Colloquium on The Science of Science Communication, I've wondered how we might change scientist stereotypes through our use of social media. At some point in my own journey with Instagram as a platform for sharing my passion for science as well as circus arts, I started to think, what about selfies? What could be better than the culturally iconic selfie, or the self-portrait, to give people a more personal glimpse into science and help them better relate to, and thus trust, scientists?
Last year, I joined forces with several other researchers and scientist Instagrammers including Samantha Yammime (@ScienceSam), Imogene Cancellare (@biologistimogene), Becky Carmichael (@beakerbjc), Lance Porter (@lanceporter) and Daniel Toker (@the_brain_scientist), to explore whether posting selfies could change people's stereotypes of scientists.
Many scientists today have embraced social media as tools to communicate their research and to engage broader audiences in scientific discovery and its outcomes. But the rise of the "social media scientist" has also led communicators and scholars to ask an important and often overlooked question: Do people trust the scientists who show up in their social media feeds?
The answer may depend on how these scientists portray themselves. In our new paper published in PLOS ONE titled "Using selfies to challenge public stereotypes of scientists," we conclude that scientists who post "selfies" or self-portraits in their Instagram feeds foster trust and help change public stereotypes that scientists are competent but not warm. Posting science images without a human element, at least based on our findings, doesn't significantly increase viewers' perceptions of scientists as warm and trustworthy.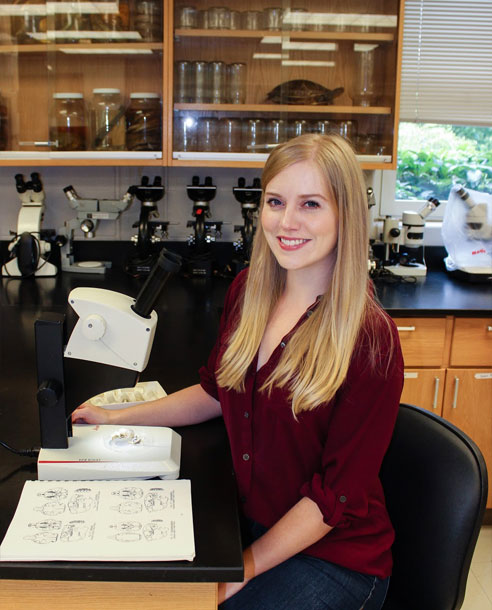 How Selfies Communicate Trustworthiness
Fiske has suggested that scientists have earned Americans' respect but not their trust. Trust depends on two perceived characteristics of an individual or social group: competence and warmth. Perceptions of competence involve the belief that members of a particular social group are intelligent and have the skills to achieve their goals. Perceptions of warmth involve the belief that the members of this group also have benevolent goals, or that they are friendly, altruistic, honest and share common values with people outside of their group. Together, perceptions of competence and warmth determine all group stereotypes, including stereotypes of scientists.
While our perceptions of both the competence and the warmth of members of a social group are important, it turns out that perceived warmth is more important. And, as Susan Fiske has shown in a study published in 2014 in the Proceedings of the National Academy of Sciences of the U.S.A., Americans see scientists as competent but only as moderately warm. Scientists' perceived warmth is on par with that of retail workers, bus drivers, and construction workers but far below that of doctors, nurses, and teachers.
As we looked into the literature of warmth stereotypes, we found evidence that human faces, smiling expressions, and admissions of honesty could boost positive perceptions of individuals, with mixed results when applied to stereotyped groups of people. But based on this literature, we hypothesized that Instagram posts depicting a set of diverse faces of friendly, honest scientists sharing glimpses of their everyday work in the science lab or field might help change the problematic stereotype that scientists are competent but not warm.
"Instagram is also a place where people with different backgrounds and interests can come together and even get to know each other via common hashtags. K–12 teachers are using social media in the classroom to introduce young students to scientists online. At the university level, students are engaging the community with which they aspire to belong. This multimedia-rich interaction could help broader audiences get to know the friendly, sociable, fun and relatable scientist," said our study coauthor Becky Carmichael, science coordinator for Louisiana State University's Communication across the Curriculum program.
To explore this idea, we launched a research project popularly known as ScientistsWhoSelfie, based on the hashtag we introduced to raise awareness about our project on the science crowdfunding site Experiment.com. The relevance of this project to the scientific community was immediately apparent—scientists flocked to upload their selfies to social media before we even conducted our first pilot lab experiment. More than 13,000 Instagram posts today include this hashtag!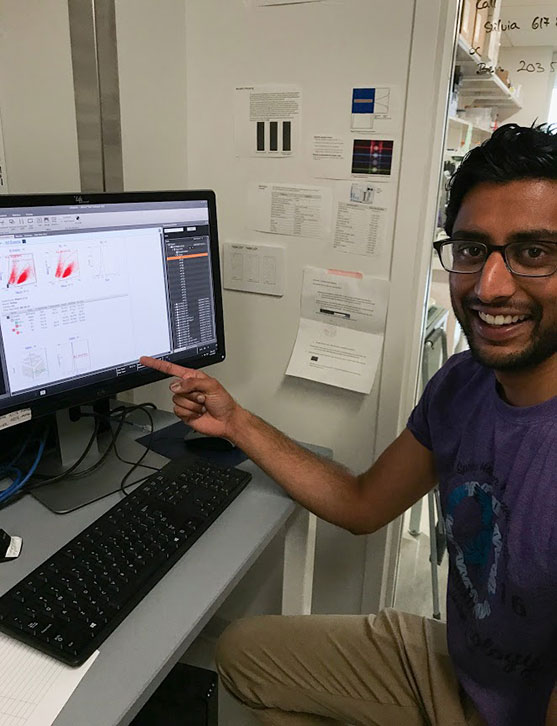 Scientists Who Selfie Put To the Research Test
A few dozen scientists around the globe helped us develop a series of images for our project. The idea was to show research participants images published to one of four different "Scientists of Instagram" rotation-curation accounts and then to ask them questions about their perceptions of the scientists represented in these images as well as of scientists in general.
In our experiment, 1,620 U.S.-representative participants were shown either control images of nonscientists, selfies of scientists in scientific settings, or images of those same settings without a human face in the picture (but attributed to either male or female scientists in captions). In an example of the latter two categories, an image depicted either a scientist pointing to a colorful bioreactor, or just that bioreactor sitting on the lab bench.
Each research participant was shown several examples of only one of the types of images described above: control images, science-only images attributed to male scientists, science-only images attributed to female scientists, male scientist selfies, or female scientist selfies. We posted these images to experimental "Scientists of Instagram" rotation-curation (rocur) Instagram accounts. The captions for the science-only and selfie images were always the same except for their signatures, written in the first-person describing the scientist's work and motivations to do science.
We found that people who saw the selfies, especially those of female scientist, evaluated the scientists they saw in the Instagram posts as well as scientists in general as significantly warmer than did people who saw control images or science-only images. Female scientists in selfies were evaluated as significantly warmer than male scientists in selfies or scientists who had taken science-only images. There was also a slight increase in the perceived competence of female scientists in selfies. Competence cues such as lab coats and equipment likely played a role in preserving the perceived competence of scientists in selfies.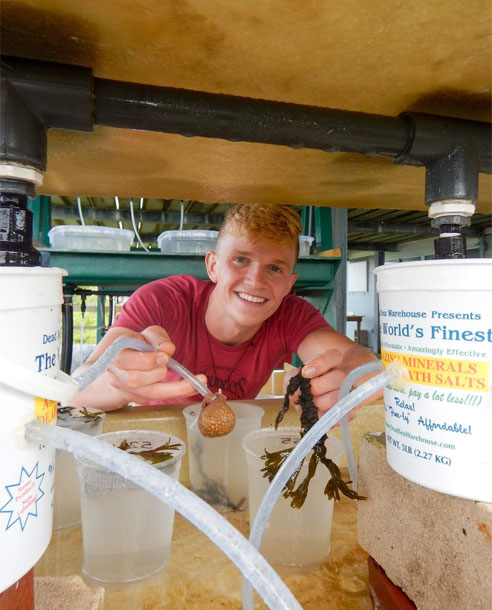 Selfies are Warm; Lab Equipment Is Not
Seeing scientists' selfies, but not images of scientific settings posted by scientists online, boosted participants' perceptions that scientists are both competent and warm. We think this result is because people who viewed science images with a scientist's face in the picture began to see these scientists not as belonging to some unfamiliar group of stereotypically socially inept geniuses, but as individuals and even as "everyday" people with "normal" interests—people who, like us, enjoy taking selfies! Female scientists in particular, when represented in substantial numbers and diversity, may cause viewers to reevaluate stereotypical perceptions of who a scientist is.
We also found that seeing a series of female scientist selfies on Instagram significantly shifted gender-related science stereotypes, namely those that associate STEM fields with being male. However, we also found that people who saw female scientist selfies evaluated these scientists as significantly more attractive than male scientist selfies. This result might help explain female scientists' boosted warmth evaluations, because physical attractiveness is positively associated with perceived warmth. However, this result could also be an indicator that viewers focused more on the physical appearance of female scientists than on male scientists. By extension, female scientists could be more unfairly evaluated for defying gender norms in their selfies, such as not smiling or appearing warm. This possibility should be investigated further in future research. While selfies offer a new medium for humanizing scientists and challenging gender stereotypes about scientists, Instagram is not free from the stereotypes that women still face both online and offline.
"Future studies should explore how different types of selfies by scientists are evaluated by broader audiences and how scientists can best build relationships with these audiences," said study coauthor Lance Porter, Director of the LSU Social Media Analysis and Creation Lab and the Doris Westmoreland Darden Distinguished Professor in the LSU Manship School of Mass Communication. "But we believe that overall, scientists who use social media to humanize themselves are helping to foster transparency of science, public trust, and interest in science."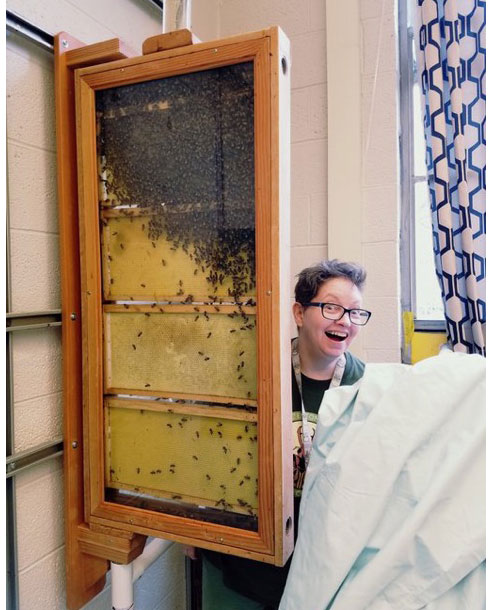 How Scientists Can Use Instagram
Previous empirical studies have shown that social media has a direct influence on the development of gender stereotypes. In the United States and Canada alone, more than 50 percent of people between the ages of 13 and 29 use Instagram. By including selfies in science communication efforts, scientists may be able to influence the formation of traditional gender stereotypes in younger audiences, including the association of science with masculinity. While by no means a necessary part of science communication, we believe these practices can inspire future generations of scientists and provide interesting educational content.
"The results of this research help us understand how to close the gap between scientists and the public and make scientists better communicators. As a scientist on social media, I've personally struggled with how to balance my research and personal life in posts, always wondering, am I posting too much science that might alienate people or too many selfies that might distract from my science?" says Bryan Lessard, an entomologist at CSIRO's Australian National Insect Collection and a supporter of the Scientist Who Selfie Experiment.com project. "It's encouraging to know that sharing my science with a smile on my face might help foster trust, inform voters, or inspire the next wave of scientists!"
To communicate warmth and trust, scientists might focus on some of the following best practices for their Instagram selfies:
1. Share selfies and personal stories from your daily experiences in the science lab or field. Don't leave out "real" discussion of your motivations (why do you love what you do, or why did you start this research project in the first place?), your struggles, and how you are overcoming them.

2. Include a short bio in the caption of all of your "scientist selfies" to establish your expertise and competence while at the same time communicating warmth. Other competence-related credibility cues you might include in the captions of your selfies (or just somewhere in your Instagram/Twitter profile) include your scientific credentials and affiliations, links to your academic website, references to peer-reviewed literature, and so on.

3. Look at the camera (to look viewers in the eyes) and express positive facial expressions (meaning genuine smiles, eye creases and all) unless you have a good reason not to!

4.Avoid jargon or language that could make viewers feel excluded or lesser than.

5. Keep it informal and fun but professional and ethical; Wear personal protective equipment in environments where that would make sense, avoid potentially disrespectful selfies with lab animals, and so on.

6. Invite viewer participation and reply to comments, to help viewers feel like they can be active participants in science and how it enters the world.

7. Be true to yourself and share what excites you!

8. Highlight diversity, especially in terms of what it looks like to do science as well as what scientists look like. Consider not only sharing your own selfies and stories, but re-posting selfies and stories from your colleagues (of all genders and races).

9. Never selectively encourage or discourage certain groups of scientists to participate in Instagram outreach (for example, young scientists, female scientists, minority scientists, and so on). To truly foster trust and help all people relate better to scientists, all types of scientists should be encouraged to participate.

10. Use popular hashtags that have nothing to do with science, to broaden the reach of your science selfies and stories. (And don't forget to the include the hashtag #ScientistsWhoSelfie!)