New Website: Better, Faster, Stronger...
Announcing our new, mobile-friendly website
June 22, 2017
As project manager for the redevelopment of the American Scientist website, I'm pleased to report that it is live and ready for business!
"Now the work really begins."
Although this project began by drafting a request for proposals in December 2015—less than a month after I started at American Scientist as digital managing editor—all of the work has been behind the scenes. Now, 18 months later, it's live and our staff can celebrate a little before launching into all the other things that we still need to do, including formatting older content to the new website style and creating redirects for all those links out there (especially all the links on social media!) that have changed because of our new database.
Even with all the work of those tasks before us, we think it was well worth it, and believe you'll think so, too. For example, with URLs, there'll be no more /issues/id.126/past.aspx—that issue is now /magazine/issues/2017/may-june and we invite you to check it out as an example of our new format. You can navigate separately to our blog channels, or navigate by science topic or magazine department, or even by term, such as "Scientists' Nightstand" for all of you fellow book-lovers out there. Or maybe you want to read long-form features one after another—you can see just those, too.
In addition to a mobile-friendly site for phone and tablet users, Sigma Xi members also have the benefit of seamlessly navigating between this site and Sigma Xi's website and communities—the logged-in areas of two different domain names—and that's no small feat (let me tell you... over drinks sometime).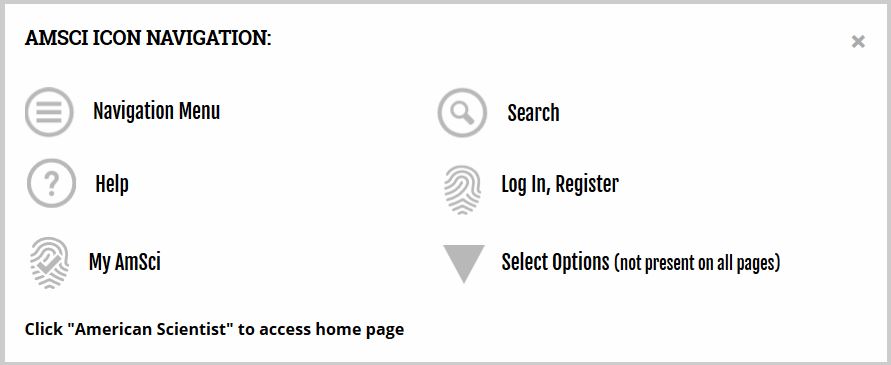 While internal support for this project has been extraordinary, we are a non-profit organization and made some decisions based on available resources. That includes going live with just the past five years' worth of content (back to 2012). And as of today, much of that content still needs to be reformatted to take advantage of the new website. So we ask that you please be patient with us as we do that work and add/reformat all the content back to 1998, which was everything that was available on our old site.
For now, then, we invite you to look around: You'll read, hear, and see from scientists themselves, who we are proud to have as authors. And if you absolutely must have something now from our content 1998–2011, our full archive (going all the way back to 1913) is available via a link on our "navigation menu."
Finally, this project would not have been possible without the support and effort of everyone on staff, whether directly or indirectly by doing more than their normal share (of everything else we all do). Most especially, we really appreciate our publisher, Sigma Xi, and particularly all the efforts of IT Manager Michael Pavlot, who served as technical lead and was my partner in this project through every step of the way, and to whom credit for the quote above is due, which bears repeating: "Now the work really begins."