Metaphorically Speaking
Artist Viktor Koen explains how he creates visual representations of complex ideas

This Article From Issue
March-April 2006
Volume 94, Number 2
For some time, I've been considering how a visual metaphor—to explain a scientific concept, for example—can be more than just a tool for communication. The process of creating the metaphor can itself be a powerful way for the metaphor's creator to develop a deeper understanding of the concept. The steps involved in thinking about whether a certain metaphor works or, perhaps more important, how it doesn't work, offer their own revelations.
When I first saw Viktor Koen's photo illustration in the New York Times Book Review section, I was impressed by the cleverness with which he communicated the complicated idea of "emergence." The whole (the apple) is visually different from the parts (the mechanical mechanism) that make up the whole. "The whole is greater than the sum of the parts" is one definition of emergence in complex systems.
Viktor's approach in creating metaphors is an artist's technique, not necessarily science-driven. He may not have intended to be precise in his visual definition. But in my opinion, he hit the nail on the head; his clockwork apple inspired me to do a great deal more thinking about the power of the visual metaphor in expressing complicated ideas.
Viktor Koen (http://viktorkoen.com), born in Thessaloniki, Greece, holds a bachelor of fine arts degree from the Bezalel Academy of Art & Design in Jerusalem and a master of fine arts (MFA) degree with honors from the School of Visual Arts in New York City. He serves on the faculty of Parsons School of Design and the MFA program of the School of Visual Arts. His images are regularly published in the Times Book Review, TIME, Newsweek and Esquire. Other clients include major book publishers, corporations and newspapers. His award-winning prints are exhibited in galleries and museums in the United States, Europe, Japan and Australia. His work is featured in numerous books and publications, and is part of private and institutional collections.
---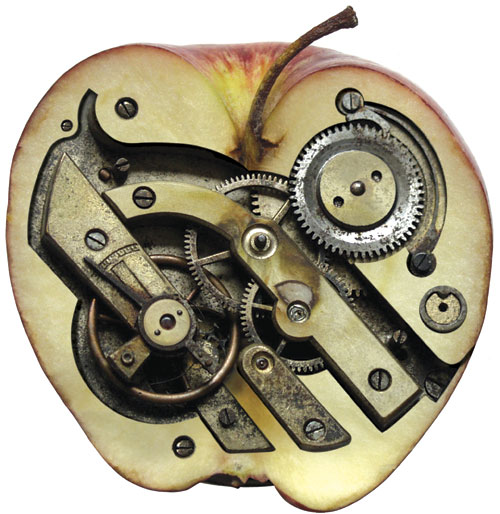 F. F. Viktor, let's talk a little bit about how you work. How do you get your assignments?
V. K. Well, the art director gets in touch with me and asks that I read a review and come up with an idea for some sort of image that suggests what the book is about. For this particular assignment, there wasn't enough time to send him a sketch of what I had in mind. I had to produce a finished image in two days.
F. F. Two days? I would go nuts. When you were first given this assignment, were you familiar with the concept of emergence?
V. K. I didn't completely understand the idea and had to read the review a couple of times. At first I was confused as hell. Usually what I try to do is get a "spin" on the concept, and that will depend a lot on the reviewer's tone. This was a tough one. I am an analytic person, and I believe there always needs to be a logical explanation for everything, so this was troubling to me.
F. F. How did you go about coming up with this idea?
V. K. I'm sort of a one-trick pony. I have the same process whenever given an assignment. I need a method to make it work. What I do is boil down the idea into three or four words and then try to translate the images in an unforced way. It's important that it not be forced. For this one all I needed were two words that made sense. They were "nature" and "mechanics"—mechanics meaning the way things work.
I love toys, and I collect antiques. I collect all kinds of things and have a photographic library of pieces that I shoot so that I can later put them together. I like to shoot insides—hidden parts … the guts of things.
It just so happened that my friend Liz gave me a clock as a gift. The back of the mechanism was really what interested me. In fact, that's how I display the clock in my house, showing the back rather than its face. So, for this assignment, I photographed the mechanism of the clock ("mechanics"). I then thought about the "whole" aspect ("nature"). It had to be recognizable, so I used an apple from my refrigerator. I needed a flat surface (anticipating combining this image with the other), so I cut the apple in half. And then, in PhotoShop, I played with the pieces so that there was a play between the whole and what was embedded. I think the shapes work well together. I didn't have to jam the pieces to make it work. Combining difference pieces has to feel right, and it did in this case on the first try. The apple clock becomes one. There is a symbiosis.
F. F. Would you call yourself a photographer?
V. K. Not really. I am not trained in photography. I call myself an artist. I am obsessed with details. I am crazy when it comes to those kinds of things. When I go to Greece, where most people come home with images of the beautiful water and architecture, all I have to show from my trip are industrial details and rusted surfaces.
F. F. Did anything in particular motivate your thinking about this particular exercise?
V. K. I think Chuck Close's work helped me think about it. You know, when you look at his paintings, the details have a completely different feel from the whole. It was a good beginning for me.